jeff
frank
jesse
dan
eric
Haggard, Waylon, Dwight. A rich voice, the twang of electric guitar and steel, a rolicking piano and pulse of bass drums. Old songs, favorite songs, new songs. Played for the love of it all.
For dancing, for singing along, at the dance hall, the wedding, the party. Bringing everyone together for love of it all. Western Colorado music.
The Highway 82 Band formed in 2018 with the band members Jeff Pogliano, vocals and acoustic guitar; Jesse Graber, bass and vocals; Dan Rosenthal, drums and vocals; and Eric Gross, keyboards and vocals.
Dan's daughter Carly, vocals and flute, has been involved off and on including other musicians playing various gigs in Aspen and the western slope of Colorado.
The addition of Frank Martin on guitar and lap steel has solidified the country sound for which they are known today.  Highway 82 plays a blend of Classic Country, Country Rock and originals.
Jeff Pogliano / vocals, guitar
Jeff is a 3rd generation Coloradan. His parents built their first home in Aspen after WWII. He is a full time real estate broker and teaches skiing part time. Besides music, his passions are fishing, hunting and spending time with his family.
His earliest musical influences are his parents and older siblings. He fondly remembers his mother and father frequently playing and singing together and his father, Felix, always playing his 1945 Martin guitar.
The youngest of five, Jeff's older siblings were also very much involved in bringing his attention to the sounds of the 60's and 70's rock n roll and blues. Much later in life, he was drawn to the guitar players and sounds coming from Nashville and the country music made famous there.
Early influences also included his father and bluegrass players like Doc Watson, Lester Flatt and Earl Scruggs.
Jess Graber / bass, vocals
Jess was born and raised in Missouri and Kansas. Through family camping trips and the Boy Scouts he developed a love for the mountains. After college, he made a beeline for Colorado and embraced the mountain lifestyle. He moved from Nederland Colorado to the Roaring Fork Valley in the mid 1970's and has been there ever since.
He had a day job running his construction company and then developed his hobby of distillation into Stranahan's Colorado Whiskey and TINCUP American Whiskey.
The success of those whiskeys took pressure off the day job and allowed him to pursue his other love, music. Jess has played in multiple bands from garage to local favorites.
He feels very fortunate to be playing with the highly talented musicians in HWY 82. He raised three daughters, and lives with his horses and his wife Jane in Woody Creek.
Eric Gross / keyboards, vocals
Eric Gross is a singer, songwriter and piano player who attended Boston's Berklee College of Music.
He spent the early part of his career based in Boston and Nashville, recording and touring with several artists. Eric plays and sings both powerful, soulful tunes and sweet melodic tunes.
Dan Rosenthal / drums, vocals
Dan has been drumming since the age of 9 back in his garage in Larchmont,NY. Influenced greatly by his sisters, His music of choice was English and Southern Rock , as well as the 70s singer-songwriters.
Later on,Country music became the genre that spoke most closely to him. Dan is a songwriter as well. He plays guitar and sings in a duo with his wife Pam. Pam and Dan have released two CDs.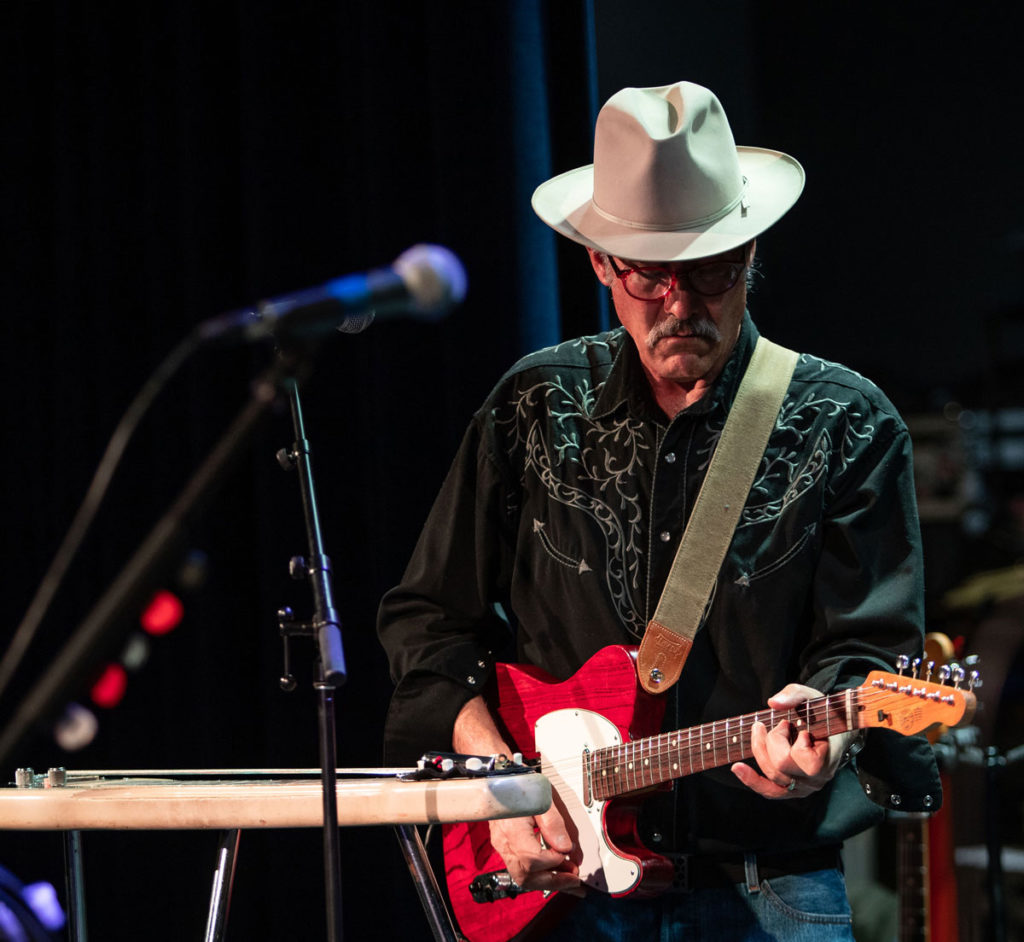 Frank Martin / lead guitar, steel guitar, vocals
Frank Martin's resume includes Sneaker, The Sirens, All The Pretty Horses, Steve Skinner Band, big band swing shows with Symphony In The Valley and numerous gigs under his own name as a solo or leading ensembles.
As a songwriter, Martin has three self-produced CDs and three top-ten finishes in the Telluride Bluegrass Festival Troubadour and Rocky Mountain Folk Festival contests.
Playing with Hwy 82 is a bucket list endeavor, a deep dive into long-loved country songs, hot guitar picking and keening steel guitar sounds. And Hwy 82 fits his requisite of playing with good people and good friends.
Carly Rose / vocals, flute
Carly is a 25-year-old musician and visual artist from Carbondale Colorado. Growing up in a musical family, she developed a love for vocal harmonies, flute, and most recently bass guitar. Carly has been performing live with bands since childhood, ranging from rock, folk, reggae, and grunge, to country and beyond.
In the art world, Carly is passionate about exploring the potentials of fungi both as a sustainable sculptural material as well as its plastic/chemical eating capabilities. She also works as a blacksmith, marble carver, installation artist, and painter. Carly's artwork can be seen at carlyrosenthal.com
| Song | Artist |
| --- | --- |
| 16 Tons | Frank Martin |
| Ain't Living Long | Rodney Crowell |
| Amarillo by Morning | George Strait |
| C'est La Vie | Chuck Berry |
| Can't You See | Marshall Tucker |
| Cash on the Barrelhead | Gram Parsons |
| Chicken Fried | Zac Brown |
| Damaged Goods | Delbert McClinton |
| Derrick Lights | Frank Martin |
| Everytime I Roll the Dice | Delbert McClinton |
| Family Tradition | Hank Williams Jr |
| Fast as You | Dwight Yoakam |
| Fire on the Mountain | Marshall Tucker |
| Folsom Prison Blues | Johnny Cash |
| Guitars, Cadillacs | Dwight Yoakam |
| Good Hearted Woman | Waylon Jennings |
| Good Old Boys | Waylon Jennings |
| Heard it in a Love Song | Marshall Tucker |
| Heartaches by the Numbers | Ray Price |
| High Fashion Queen | Gram Parsons |
| High Lonesome | Jess Hughes |
| I'll Just Stay Here and Drink | Merle Haggard |
| Jolene | Dolly Parton |
| Just Call Me Lonesome | Radney Foster |
| Just To Be Your Man | Josh Turner |
| Killing Time | Clint Black |
| Little Sister | Dwight Yokum |
| Long Cool Woman | Hollies |
| Luckenbach Texas | Waylon Jennings |
| Mama Tried | Merle Haggard |
| Melissa | Greg Allman |
| Midnight Moonlight | Old & In the Way / Peter Rowan |
| Midnight Rider | Gregg Allman |
| Much Too Young | Garth Brooks |
| Past the Point of Rescue | Hal Ketchum |
| Pontoon | Little Big Town |
| Ring of Fire | Johnny Cash |
| Seminole Wind | John Anderson |
| Shame on the Moon | Rodney Crowell |
| Sleepwalk | Santo & Johnny |
| Slow Burn | Kacey Musgraves |
| Small Town Saturday Night | Hal Ketchum |
| That's Alright Mama | Elvis |
| These Boots Are Made for Walking | Nancy Sinatra |
| Think About Elvis | Patty Lovelace |
| Thousand Miles from Nowhere | Dwight Yoakam |
| Victim of Life's Circumstance | Delbert McClinton |
| Wagon Wheel | Old Crow Medicine Show |
| Whiskey Bent & Hell Bound | Hank Williams Jr |
| Working Man Blues | Merle Haggard |
| You & Tequila | Kenny Chesney |
June 16, 2023

July 7, 2023

July 22, 2023

August 12, 2023

August 25, 2023